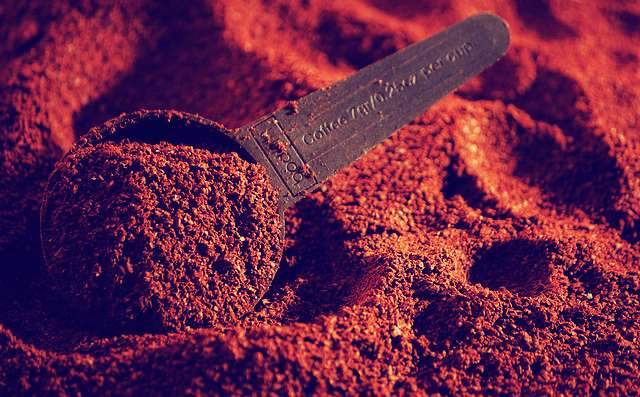 (Credit: Oberazzi w/CC License)
Looking for a way to reduce your cellulite? One home remedy that women swear by is the use of coffee grounds to remove or reduce the look of cellulite on the body. There are thousands of women who swear that this well-known home remedy is successful and works.
The main reason why you will find a lot of women trying coffee grounds to reduce cellulite is the fact that coffee is an active ingredient in many, if not most, anti-cellulite creams. These anti-cellulite creams are promoted as being able to smooth, firm and tighten your skin to the point that it diminishes the appearance of unsightly cellulite. So if you are to take an educated guess, there is a good possibility that directly applying coffee grounds could have the same topical effect on the skin as the creams.
Another way to look at the coffee grounds as a cellulite treatment is that it could also be used to exfoliate the skin. The coarse nature of the substance helps to agitate and arouse the skin cells. It will also remove the dead skin and reduce the size of your pores. When exfoliating, the coffee grounds used will help to firm and tone your skin and with that the overall look of cellulite on the body (in theory).
Coffee Grounds Cellulite Home Remedy
The use of coffee grounds to combat cellulite has been a method that has been around for decades. It is a simple and cost effective way to combat the dreaded enemy cellulite. Many women have claimed that this remedy works, so it really does not hurt to try

.
Things You Will Need: coffee grounds, newspaper, olive oil, rolling pin, (seaweed – optional), saran wrap.
Get some old newspapers and spread it on your bathroom floor. This will help with cleanup as you really do not want to make a mess.
Get about a handful of coffee grounds. Mix this with a tablespoon of olive oil. You should have a nice little mixture. You can microwave the coffee ground mixture for a short period of time to warm it up.
While standing on the newspaper, apply the coffee grounds to the cellulite afflicted areas of the body. Rub the coffee mixture on the skin generously and don't worry about the mix falling on the floor, that's what the newspaper is there for.
The majority of the coffee mixture will fall on the newspaper; however, there will be a generous amount of the mix on the affected cellulite regions.
If you have seaweed which can be bought at your local health shop, apply it to the area that you just rubbed with the coffee. Use the saran wrap to hold the seaweed in place.  If you do not have seaweed, just wrap your body part and allow the mixture to set for a couple of minutes.
Remove the wrap and brush off the excess coffee mixture.
Shower with warm water.
This procedure is most effective when repeated twice a week.
You should see a reduction in the look of cellulite after doing it.
The Results
There is no guarantee that this quick home remedy will work, but there are tons of women who swear that it does. After doing this coffee treatment, women have reported that there is a reduction in the appearance of cellulite on the body.
I am pretty sure that if you do this coffee ground/cellulite treatment, you are going to see some positive results. Give it a try and see how it works out for you. If it does work, you will have a nifty little method you can use to reduce the look of cellulite on the body.
Comments
Janet

Sounds logical and not as expensive as the body wraps. I'll try it and let you know how it works.

SAMI

I REALLY HOPE IT WORKS BEACUSE IM ONLY 22 WITH ALOT OF CELLULITE ON MY LEGS FROM BEEN TO MUCH OVERWEIGHT IN MY YOUNG TEEN YEARS AND FROM HAVE A CHILD. I KNOW ITS NOT CAUSED BY EXCESS WEIGHT BUT AN UNHEALTHY DIET DOES CAUSE IT. SO I NEED A CURE OR A REDUCE OF THEM. FAST AND CHEAP!

nicole

Actually I looked this up because Demi Moore swears by it. Of course I also swear that a 50 y/o woman cannot look as good as she does with out surgery but she does swear by this method. I will try it and see what happens

ashley

I have been using this treatment for cellulite and I have to say it works!!! It truly works!!! Well I didn't have that much cellulite before but now I have no apperance of anything. Just keep on a good life style and on this treatment….i also recomend this site "Skin care recipes and remedies"

Shayna

im gonna try this, im only a teen and i really need something that will work for me…

Tasha

I work at at spa and we do coffee wrap. Rubbing coffee grounds into your problem areas and wrapping you in plastic for 10 minutes. It WORKS!!

Danielle

Do they have to be used coffee grounds?

Misha

aww i dont have coffee right now… (i have to go shopping!) but i wonder if black tea grounds will work. Like the lipton tea bags broken up and the grounds collected… hmmmmm?

Elizabeth

I'm going crazy with this Cellulite problem that I have. exercise work just to tone my legs, but not to get rid off those lumpy spots! I would like to try the coffee wrap and see how it works.can anyone suggest me what kind of coffee should I use?

Barbi

I tried the remedy this morning and I swear my legs look 50% better!! Gonna do it several times a week. I am wearing shorts today I feel so confident, haven't worn shorts in over 15 years!!

Julia

I have tried so many different things, form expensive creams and just recently a very expensive body wrap. Was skeptical to try this when I heard about this, but OMG, huge difference in just one treatment! The best part is, I now have a use for the coffee grounds I throw away every day!!

Gen

Im 21 and actually pretty happy with my body except one part….my thighs. ever since i was very young ive had that problem even though im slim. so im really looking forward to this procedure. im about to do it right now….ill let you guys know how it goes. yay im excited!!!

Carolyn

I tried this tonight for the first time… I am 26 5'3 116lb. I am not over weight by any means, but I do have a small amount of cellulite that started about 2 yrs ago. I workout which improves my shape and tone, but does not diminish the cellulite.. The results from this treatment were subtle, yet noticeable. I plan to reapply for the next few days to see if it continues to improve. Fingers crossed the results continue!!

Jeanette

Does anyone know how many treatments of this are needed before you see results? I tried it the other night and didn't notice a difference but the skin in my thighs was super smooth…WOWEEEEE! So I was wondering if this is something you need to repeat over several days before results are seen or do they happen right away if you keep the coffee on a long time.

prisc

believe me, I;ve tried so many creams to remove cellulite that actually i've got nothing to lose to try this one! hope it does work and ladies i'll tell you how it's worked out

Donna

Did Demi Moore happened to mention how much she had to pay her maid to clean the mess?. BLOODY FREAKING HELL!…….. LMAO. It did seem to work a bit but I am not sure if it was the coffee wraps or the workout I got cleaning the bathroom afterward. Also, be careful where the coffee grinds end up when you start washing. LOL. I think I will stick to Nivea Anti cellulite cream

Julie

Most of the reviews sound great. I had 2 kids and gained 200lbs, luckily i lost a lot of weight with diet, but unfortunately i have so much cellulites that makes me feel so embarrass and brings myself esteem down, but hopefully this treatment with the coffee works. I can't wait to start, just need to buy the supplies. If it works i promise to comment on this treatment, hopefully in two weeks.

B.

I tried this today, and I seriously think my thighs look way better after just one treatment!!! It was a messy job, but since it's hot outside, I just went out into the garage in my swimsuit and started smearing it on and wrapping in plastic wrap. Then I just wrapped a beach towel around my bottom half and sat out on the patio sipping on a beverage while it all soaked in. After 20 minutes, I got the hose out and hosed off my legs and the garage floor. Not only did I think they looked smoother, but the olive oil and exfoliation made my skin super soft!! I don't have time after work to do this very frequently, but I will definitely add it to my weekend routine!

jade

what if you do this everyday? will it speed up results? and also, how long until cellulite is gone?

admin

Well it won't eliminate cellulite, but it can really reduce the overall look.

Jen

It wasn't completely clear as to use used or fresh grounds with the olive oil. Wouldn't it be more potent using fresh grounds with the olive oil, warm it up a bit in the microwave then apply? Just looking for the most effective procedure.

iam am going to try this. i can,t believe how bad it looks. wish me luck.

Claudia

I really hope this works. I will try this tomorrow morning, FIRST THING! I hope it works…I have Medium Cellulite on my stomach from pregnancy….I really hope it works, I am tired of looking at myself in the mirror and saying eww to myself lol it's true though, I will log on tomorrow morning and leave a comment of my results, PROMISE!

It did not work! I used USED coffee grounds, WARM! rubbed it on my cellulite and wrap it with trasparent wrap! left it on for 25 min….DId not show results!….I think it made it worse hahaahaha

I used water instead of the olive oil because i didn't have olive oil aqt teh time , will that worrk ?

lauren

I tried this today because it sounded like a good remedy and I wanted to see for myself what it was like. It was a bit messy, I figured out the easiest way for me was to stand in the bath tub and smear the mixture on me then wrap it tight it seran wrap. I did my thighs, butt and stomach. I didn't plan on it but I had enough so I figured what the heck. It only took 3 keurig brew cups to accomplish this. I then relaxed in my bath tub for 20 minutes and let the caffeine go to work. I felt this was the least messy way. Coffee grounds will eventually disintegrate so I didn't think twice about rinsing down the drain. After a few hours I believe I could see an improvement. I don't have a lot of cellulite but I notice it less now. Amazing!!! Im doing it again tomorrow and Saturday to prepare for a party im wearing a very short dress to. Hopefully this will make me feel more confident. Oh and not to mention the Olive oil is such a fantastic moisturizer, it left me feeling silky smooth all day!!!

lakshmi

Mix about a quarter-cup of warm used coffee grounds with a tablespoon or so of olive oil. i din't get it pls anybody tell me how can i get "warm used coffee grounds"? can i add olive oil to coffee powder and apply it directly? or do i have to add some warm olive oil to coffee powder? pls anybody guide me.

nicole

hi, i'm in my teens, im 16, tall and thin but i do have noticeable cellulite to be ashamed of when wearing a bikini or shorts… i've been on the anti cellulite diet for nearly a month now, i feel great and i'm not missing the junk food, just chocolate, but i have dark chocolate occassionaly since its good for you (: i'll also try this home remedy, and i'll update about the results. i think the key of reducing cellulite is :
-a good diet
- exercise
-massage + treatments
- to stay with it !! xx

Lynda

Mix coffee grounds with olive oil or coco butter and rub over body. Stand in bath or shower to apply – saves mess. Wrap in clingfilm. I slip joggers on and rinse after 20 mins.

Another olive oil tip – rub olive oil and granulated sugar into hands for a few minutes, then rinse. Makes hands lovely,soft and smooth.

Dany

Work for me, I take the coffee ground to the shower and scrub the area with my hand in circular motion, not only I see results with celulite also with firm and tone skin.

Alexa

It works! Its very messy but i noticed the difference afterwards. Im going to keep trying it and see how it goes(:

I tried this, but with some differences. I'd heard somewhere that adding an egg instead of oil can work quite well, so I ended up doing a slightly beaten egg, about a half-cup of coffee grounds (my hubby's version of one pot's worth) and five good pumps of cocoa butter lotion. I decided to take pictures of the trouble spots, and try to make the light, positioning etc. as close to exactly the same for before and after as I could. I hoped maybe the egg would save a bit of mess — it was still a big mess, but I don't know how it compared .

Background — I'm 26, I just had baby #3 four months ago (he was 10 1/2 lbs). I weighed 230 directly before my baby was born, and am about 180 now. My highest non-pregnant weight was 245, highest pregnant was 250. Now I'm working out three times a week and have been eating healthy since I started dropping the weight 65lbs ago. As you can imagine, there's a lot of loose skin. I started researching coffee grounds because I'd heard a lot of good reports of it for helping skin tighten back up.

Long story short — I left it on for 20 minutes. Initially I didn't think there was really a difference, but on the after pictures there is some smoothing and a little tightening. Awesome, I didn't expect a HUGE difference the first time, so I'm happy with that. I doubt I'll ever do it on this scale again, though…maybe a couple tablespoons at a time and rotate problem areas, because it is very messy. That said, the exfoliation was AMAZING. I feel great, and my skin is super-soft and looks smoother. I've been using a sea salt bath scrub regularly, but the coffee grounds did so much better. I did it all in the bathtub too, and walking around on the coffee grounds made my feet feel nice and soft too . Definitely positive enough to try it again, especially since expense is minimal. And I suspect I won't be using the sea salt scrub anymore…coffee is a little messier, but it works so much better. I suspect hubby likes the fragrance better too

Md

Soooooo I was pretty damn skeptic about this method. I've never tried anything else really, I stay fit and eat right, but my thighs are still a problem area for cellulite. Anyways I just tried this and am AMAZED at the results. I left it on for about 25 minutes, even though the post says five. Anywho, my cellulite is not gone, BUT there is a a DRAMATICALLY noticeable difference from how it was before I tried this. I cannot WAIT to keep using this method and see if it completely gets rid of it or what.
I recommend this to anyone with any type of insecurities due to cellulite!

The only downside is it is extremely messy, and i can't see washing coffee grounds down the drain like that being good for it. But weighing it out, mess doesn't override the outcome!!