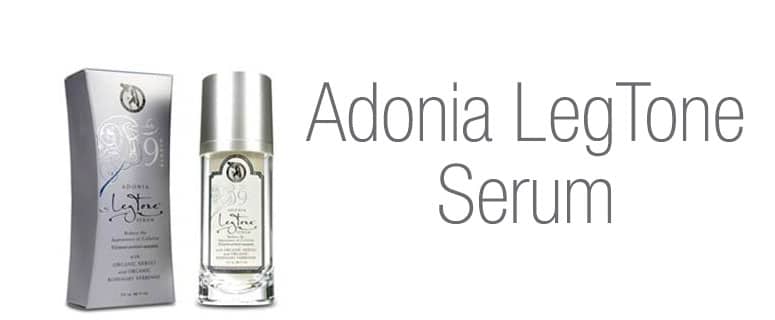 There are tons of cellulite creams on the market and it can be pretty difficult trying to pick one that will work and help you get rid of or reduce the look of dimply skin on the body.
A popular cellulite cream option is the Adonia LegTone Serum. For those of you who might be interested in getting this product, but want a review/bit more information before you buy, then check out what I have to say below. I give a detailed overview of this product and you should have a better understanding if this is something you want to purchase or not.
What It Claims to do?
The company makes some pretty bold claims and they state that this leg serum is an effective treatment for those who are looking to get rid of cellulite.
You can expect if you use this product to:
Have a 47% reduction in the appearance of cellulite in 9 minutes
After using it for 6 weeks, you will have a 72% reduction in the dimpled skin on your body
How is cream able to do this you ask? Well the company is basing this on their unique formula.
It contains 23 Organic Greek Botanicals – These botanicals have been micro-blended and this has created something that is very potent. These Botanicals remove toxins, stimulate the lymphatic system an improve circulation, which are effective at getting rid of cellulite.
New Plant Stem Cell Technology – When combined with the 23 organic botanicals should create a powerful cellulite buster and reducer.
This sounds like a really potent and powerful cream and the big question now remains; does it work?
Does it Work?
So I guess the big question is, does the Adonia Cellulite Cream actually work? They make the bold claim that it is "Clinically Proven 47% Reduction in the Appearance of Cellulite in 9 Minutes". Unfortunately, that is something that they say just as a way to push their product. I can guarantee that after using this product, you are not going to see any kind of results in 9 minutes. That would make it a magic cream and you know that does not exist as yet 🙂
So Will it Work Over Time?
The jury is out and has returned and it seems that the Adonia Leg Tone Serum is not going to make the cut and it is not something I will recommend.
You can take a look at some of the awful reviews that it has been getting and truthfully, it is better you save your money or look at some of the better cellulite creams that are available.
If you look on Amazon's review page, you will notice that the majority of the comments have people who are extremely disappointed in their purchase, especially since it does not work or gives poor results. That in itself is all the proof you need to stay far from this product.
So What to do?
Well if you are suffering from cellulite and you either want a quick fix or to get rid of it completely, you have options available to you.